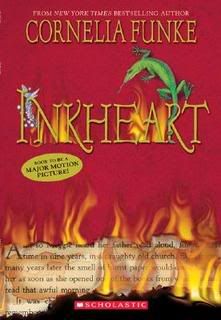 I actually finished Inkheart a few days ago, I just haven't gotten around to writing up a review for it until now.
I broke a rule with this one. Usually, I wait until after I've read the book to see the movie. But I was so excited, I saw the movie first. I don't think it really affected my judgment of the book, and they did compliment each other, even though the book ends slightly different and leaves room for its sequel, Inkspell.
For those of you who don't know the story, it's about a girl named Meggie (yes, I spelled it right) who discovers that her father Mo has the power to read characters out of books. But not without a price. When he accidentally reads out fire-eater Dustfinger, knife-wielding Basta and the nefarious Capricorn out of Inkheart, his wife gets sucked into the book. Now he has to deal with the nasty villains while trying to find the last known copies of Inkheart so that he can set things right.
I have mixed feelings about this book. On the whole, I enjoyed it. The characters jumped off the page (no pun intended), especially Elinor and Dustfinger. But I didn't feel there was any sort of climax. The book glided along on calm seas. Things were always happening, of course, but there was no urgency to them, even when you would think there should be.
Another thing that confused me was that they were constantly getting CAPTURED! It's the same way in the movie too. It seems they just can't stay away from Capricorn's fortress-village of doom.
On the up side, I really liked Meggie's descriptions of her relationship with her father. It was clear that she would follow him to the ends of the Earth, even when he refuses to tell her about his powers until the end of the first quarter of the book.
That got a bit annoying. Even more so in the movie. WE KNOW HE HAS MAGICAL READING POWERS, JUST TELL HER ALREADY!
Ahem.
But don't get me wrong. It's a good story. I'll probably get the next one to read, because there's quite a few loose ends on this one, and I want to know if Resa gets her voice back (*spoiler: in the movie, she does. In the book, not so much*).
**SPOILER ALERT**
The way Capricorn keeps talking about Resa (Meggie's mother), it makes it sound like he's been sleeping with her. Apparently she's his favourite maid, and one of the few allowed in his bedchambers. I don't know whether anything happened between them, but it doesn't really seem to faze Resa that she's trapped in this terrible village with men all seemingly to want to get into her pants. Or dress, rather. Even Dustfinger admits his affections for her. I was just hoping for more of a reunion between Mo and Resa.
**END SPOILER**
So, if you're looking for a laid-back adventure about people who love books, you should read this book. The author is obviously well-read, as the characters constantly reference different books pretty much every page. But if you're looking for something with a faster pace, you might want to pass.